A US Coup in Brazil: Lula, Dilma, and the Brazilian crisis
So much has happened in Brazil the last 4 weeks or so that it is getting hard to keep up with all the facts and their meaning. We advise readers to see Part 1 first (linked above). Some commenters have joked that the American TV series House of Cards pales in comparison to contemporary Brazilian political scene. As of now, Lula has gone from "almost arrested" to "almost Minister" (see below), and President Dilma Roussef's impeachment has being voted for in the lower house – so now the next step in deciding her fate shall be determined by the senate in May, 2016 (it is very much likely she will be impeached, though no one can be sure). Meanwhile, her conspiring vice-president could be impeached also.
            Let us continue then with a brief summary of the latest facts and semi-facts, so to speak:
After former president Lula's coercive warrant (illegal, according to most experts – see Part 1) on Friday, March 4th, Lula left the police station after a 3 hour statement and then went straight to a street demonstration called by his supporters where he announced he will be running for president in 2018.
 
Several street protests have been taking place all over Brazil. Those who demonstrate against Dilma Rousseff are in greater numbers, but it is safe to say the country is divided. Meanwhile, a witch-hunt atmosphere has developed – it's language is that of anti-communism. There have been incidents of people being harassed or even attacked just because they were wearing red (the colour of PT).
 
The state of Sao Paulo Public Prosecutor's Office filed for Lula's actual preventive arrest on Thursday, March 10th. The prosecutors claimed the former president was a threat to public order if let free. Sao Paulo state judge Maria Oliveira commented there were "no evidence" to justify his arrest, but she declined to rule, because federal judge Sergio Moro already oversees the "Lava Jato" (Operation Car Wash) investigation, so the jurisdiction would be his (Moro has been described as a "crusading judge", personally bent on putting Lula behind bars). From that moment on, the countdown started. It seemed it would be a matter of time before the media could report Lula's actual arrest, thus ruining any hope he had of running for president again, due to the image damage.
 
In a risky political sleight of hand, president Dilma appointed her predecessor, Lula, as Chief of Staff of the Presidency of the Republic (with the rank of Minister). In Brazil, the Chief of Staff Minister negotiates with Congress and governors on behalf of the president. His function is often compared to that of a Prime Minister in parliamentary states (although under the President, in Brazil's case). Lula took office under intense demonstrations, both for and against his appointment. The same day, several private telephone conversations (illegally bugged, some say) involving Lula, Dilma and other PT members were leaked to the press by judge Sergio Moro – including a conversation between the president (she called from her presidential office) and Lula. The Federal Police claim that Lula's phone was tapped, not president Dilma's. However, because she called him, she was bugged also.
 
An impeachment proceeding against president Dilma was accepted by the speaker of the lower house, Eduardo Cunha – himself under indictment for money-laundering and other crimes (Swiss authorities have closed at least four bank accounts, allegedly his).
 
In an unexpected turn of events, a federal judge granted an injunction against Lula's appointment as Chief of Staff, claiming it was actually a move to compromise the police investigation. This judge had posted pictures of himself (on Facebook) attending anti-government protests, it turned out.  Then, his ruling was overturned by a higher court, but other lawsuits against Lula's appointment were filed in a confusing sequence of events – and are still pending judgement (there has been a flood of lawsuits, as part of a anti-government juridical militancy strategy). Technically, Lula is a minister (although even that is controversial), but his legal capacity to operate as such is temporarily suspended. Like Schrödinger's cat, he is a minister and yet he is not (from "almost arrested" to "almost minister"). Regardless of that, Lula installed himself in a Brasilia capital city hotel and has been operating on behalf of the president in an informal capacity, meeting law-makers and trying to prevent Dilma's impeachment and to overcome the current crisis. Thus, Lula is now a de facto minister – without any legal prerogatives and privileges that are normally accorded to this office. Dilma Roussef, in her turn, is the de jure President, although she can no longer rule de facto (see below). She is therefore "almost impeached".
 
Meanwhile, judge Sérgio Moro's leaks became a scandal of their own (some refer to it as "Morogate"). Brazil's Supreme Court removed Moro from Lula's case and Moro himself might face legal problems. He is also accused of being biased and of several abuses, such as illegal preventive arrests and even "psychological torture" of prisoners by means of prolonged preventive detentions –  collaboration with police being then falsely presented as the only way out of prison.
 
On March 14th, several congressmen dined with vice-president Michel Temer in his vice-presidential palace and kissed his hand, acknowledging him as the future president (and current de facto president). Mr. Temer is a cultivated well-respected constitutionalist and a high-ranking Freemason (sectors of Brazilian Freemasonry have been very active in the anti-government protests, by the way). He is a vice-president that has been openly conspiring with the lower house speaker Mr. Cunha to overthrow the president. Both Mr. Temer and Mr. Cunha face corruption accusations (president Dilma Rousseff, unlike Mr. Cunha and others who demand her impeachment, faces no illicit enrichment charges whatsoever). Cunha, for instance, is named in the Panama Papers.
 
Other ministerial appointments have been blocked by federal judges. For instance, a ruling suspended the appointment of the new Justice Minister Eugênio Aragão. That ruling, in its turn, was struck down by the Federal Court of Appeals in a non-ending sequence of events under intensive television coverage, 24 hours. Any move Dilma Rousseff tries to make is blocked by a ruling or investigated in an overly meticulous inquisitorial manner. She could not even make a public address to the nation on TV (exhorting the people to denounce the impeachment proceedings as a coup); a federal judge ruled this would amount to using her public office on behalf of her personal interests.
 
Meanwhile, vice-president Temer himself faces an impeachment process (for the same reason president Rousseff does) and has also been mentioned by arrested businessmen turned police informers in the Operation Car Wash as the recipient of bribes.
            Before we proceed, I ask the reader to allow me to go back to a few more facts:
Brazilian pre-salt oil reserve discoveries were announced in 2007 and then in 2008. They actually rank as one of the greatest discoveries in the American continent for decades.
 
A 2009 Wikileaks cable, from US Consulate in Rio de Janeiro to Washington, DC, reads "Can the oil industry beat back the pre-salt law?" (see https://wikileaks.org/plusd/cables/09RIODEJANEIRO369_a.html ). It also mentions "election year making for a 'hard battle' for industry". Dilma Rousseff ended up being elected for her first term in 2010. It mentions 2010 defeated presidential candidate José Serra promise to oil companies (see part 1 and also http://www.brasilwire.com/snowden-wikileaks-brasil/ ).
 
We mentioned above Rousseff's tapped conversations. It was not the first time the president was tapped, though. The American NSA had been spying on her for a long time (see https://www.rt.com/news/271699-nsa-brazil-new-wikileaks/ ). US espionage was mainly concerned with Brazilian petroleum and nuclear programs (see below), both of which have become the target of Brazilian Federal Police investigations – with the help of the US Department of Justice, the FBI and other branches of the US government (see http://www.istoe.com.br/colunas-e-blogs/coluna/427939_COFRAO+NA+MIRA+DO+FBI )
 
Brazilian Federal Police, by the way, have long been accused of being controlled to some extent by the FBI. A Brazilian congress Commission was even scheduled to receive testimony from former FBI head in Brazil Carlos Costa in 2004, who claimed that "He who pays the piper calls the tune", referring to US intelligence agencies transfers of money to the personal accounts of Brazilian Federal Police agents and officers  (see http://memoria.ebc.com.br/agenciabrasil/noticia/2004-05-26/solicitor-requests-investigation-deposits-federal-police-accounts ).
 
On July 10th, 2007, then president of Brazil Lula da Silva announced his plan to fund the construction of a nuclear submarine, in perhaps the first serious attempt in Brazil to elaborate a national defense strategy. President Lula said that Brazil "will have a nuclear submarine because it is a necessity for a country that not only has the maritime coast that we have, but also has the petroleum riches that were recently discovered in the deep sea pre-salt layer."
 
In 2013, president Dilma Rousseff, following her predecessor Lula's plan, launched the program to build a nuclear submarine within a decade. The program includes the opening of a naval shipyard installation at a Navy base on Rio de Janeiro, near the petroleum discoveries. It includes four conventional attack submarines and a fifth nuclear one, powered by a nuclear reactor (developed entirely in Brazil). "This facility allows our country to affirm itself on the world stage and, above all, develop in an independent sovereign way," Rousseff said at the time, mentioning the importance of the BRICS group also. The submarines were to be made by French DCNS company in a joint venture with Brazil's Odebrecht. The whole thing was part of an effort to defend Brazil's oil and trade interests in the South Atlantic region (a region long dominated by British and American navies). It would make Brazil part of a very exclusive club, that of nations possessing home-grown nuclear submarine capability, thus strengthening Brazil's aspirations to join the permanent U.N. Security Council, with Russia, the US, France, and China.
 
In 2015, Brazilian Federal Police started probing the very nuclear submarine described above, investigating potential irregularities. Odebrecht's executives were then indicted on corruption charges for alleged frauds on contracts with Petrobras, Brazilian state-run oil company. The police operation also focused on Eletrobras' Eletronuclear division, which was building a nuclear power reactor near Rio de Janeiro.
 
On June, 2015, Marcelo Odebrecht, CEO of the powerful Brazilian conglomerate of the same name, was arrested. His jailing led to shrinking funds, threatening the Brazil nuclear submarine program. Legal experts say his preventive arrest was illegal and abusive. One should keep in mind that arresting a major oligarch is a very rare event in Brazil. Businessmen involved in, say, the waste sector or public transportation connected to organized crime manage to stay out of jail (and those are men much less wealthy and powerful than Mr. Odebrecht). Odebrecht is the largest engineering firm in Latin America. Following the Brazilian paradigm of the "logistic state" (see http://idbdocs.iadb.org/wsdocs/getdocument.aspx?docnum=35279470 ), Marcelo Odebrecht would state in 2012 that, "We act in alignment with Brazilian foreign policy" (see  https://www.foreignaffairs.com/articles/brazil/2016-01-05/brazils-foreign-policy-failures ). That is why the federal Brazilian Development Bank (BNDES) has supported and financed Brazilian multinationals such as Odebrecht (see http://www.scielo.br/pdf/bpsr/v8n3/1981-3821-bpsr-8-3-0066.pdf ).
In fact, Odebrecht has been a vector of Brazilian soft power and Brazilian projection in Africa and the Caribbean.
 
The following month, the longtime leader of Brazil's nuclear energy program, retired admiral Othon Pinheiro da Silva, was arrested for allegedly taking bribes from firms such as Odebrecht. It is the same Mr. Silva who claimed "the US fills this country with spies" in 2004 (http://www.parana-online.com.br/editoria/pais/news/79261/ ). The US, according to him then, does not want Brazil to have autonomy in defense matters. Mr. Silva is considered "the father of the Brazilian nuclear program".
 
Federal Police commissioners have stated that they hope that Mr. Temer (in case Rousseff is ousted) will not interfere with the Lava Jato Operation (Temer is under investigation).
 
Joel Velasco (Senior Vice President at ASG and former White House aide) has stated that Brazilian Operation Car Wash needs to come to an end (as if it has gone too far), with the pardoning of some, if necessary (see http://noticias.terra.com.br/brasil/ex-assessor-da-casa-branca-diz-que-lava-jato-precisara-de-ponto-final-sera-necessario-perdoar-os-que-erraram,979814d3c990710a8b447caaaa750b7bx869xnw8.html ).
A few days later, Brazilian public attorney Paulo Roberto Galvão de Carvalho, part of the Car Wash Operation team, apparently echoed that statement, saying that Car Wash Operation will not be investigating the possible involvement of previous administrations – only PT's (see http://noticias.uol.com.br/politica/ultimas-noticias/2016/03/29/investigar-gestoes-anteriores-ao-pt-e-inviavel-diz-procurador-da-lava-jato.htm ). Even judge Moro has stated he hopes to see the Operation finished by December. Those statements sound like "mission [almost] accomplished" in light of the geopolitical aspects of the Operation mentioned above.
            We could go on, but we hope the reader gets the picture by now. Sadly, the anti-corruption cry involving the impeachment proceedings and public demonstrations is somewhat of a travesty. If it is not technically a classic coup d'état, then it is a (parliamentary) "coup" of some sort; an "almost coup", if you will. Amongst the law-makers loudly demanding Rousseff's impeachment are the worst Brazilian corrupt politicians, including infamous Paulo Maluf, who was on Interpol "wanted" Red notice list – thus subject to arrest and extradition in 181 countries – and on World Bank's "Grand Corruption Cases Database Project".
            Large sectors of the middle class are incensed by Dilma and PT, expressing this through the discourse of anti-communist rhetoric. Which is rather ironic in itself, for PT  is actually supported by the catholic bishops of Brazil (many of whom have denounced the "coup") and its administration could be better described as "national-developmentalist" and "center-left". Lula and PT's primary social welfare program ("Bolsa Familia") ‒ the centerpiece of PT's social policy – was based on some of neoliberal economist Milton Friedman's ideas (his "negative income tax").
            This whole atmosphere of farce is intensified by what seems to be a nation in a trance in the context of la société du spectacle (Guy Debord). Sometimes literally in a trance, as Janaina Paschoal (the lawyer who is one of the authors of the impeachment request) gave a very eloquent anti-government speech in the University of Sao Paulo Law School apparently under a trance – the press described her as "possessed" (Ms. Paschoal is a member of Brazilian spiritualist cult of Umbanda.  
            The natural power of media to turn things into a show seems to be heightened in Brazil, whose society and popular culture has been described by many Brazilian intellectuals and social scientists as having a strong tendency towards carnivalization (in a bakhtinian sense) – see protest image bellow.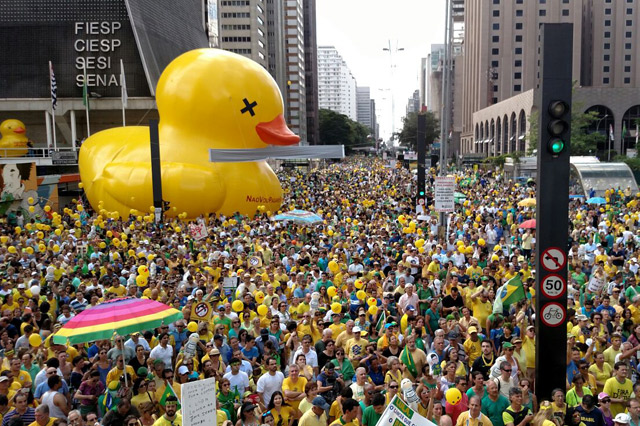 President Dilma Rousseff is basically being impeached because members of her PT party on the ethics committee announced they would vote to remove the powerful lower house speaker Eduardo Cunha from Congress, due to his many misdeeds. Mr. Cunha impeachment bid is thus an open act of revenge against PT and the president in a open conspiracy with Ms. Rousseff's own vice-president Mr. Temer. Both Mr. Temer and Mr. Cunha need to seize power, so that they can somehow abort the federal police in Operation Car Wash, as both risk facing prison. It is a conspiracy of corrupt and experienced politicians against a weak and somewhat unfit president – this move counts with popular support due to the bad shape of the economy (basically due to the Brazil-China commodities bubble) and Dilma Rousseff's notorious lack of charisma.
            The plan is to impeach Dilma Rousseff under vague fiscal irresponsibility charges (a technicality) and to get former president Lula arrested for equally vague charges (see part 1), thus providing the media and society with a good enough scapegoat, in an almost Frazerian ritual manner. There are no saints in this story. Rousseff's pedaladas (creative budget accounting) are commonplace in Brazil (16 Brazilian governors could be impeached for very similar reasons. See http://www.valor.com.br/politica/4493408/se-impeachment-por-pedaladas-16-governadores-terao-que-se-afastar ). The Petrobras bribes scandal started under previous administrations, years ago. A leaked list of Odebrecht donations under investigation cites over 200 politicians from 24 parties (Brazil's congress has 27 political parties). Rather than being made an example of (to reform the political system), Dilma Rousseff and Lula da Silva are actually being scapegoated as part of a major cover-up operation.
            The opposition plan also involves a political reform that would bring European style parliamentarism to Brazil, avoiding a Michel Temer defeat in a 2018 Presidential race – being the most powerful party and political machine in Brazil, PMDB (the party of both Cunha and Temer) would reign supreme in a parliamentary republic. Such political reform is being sold to the general public as a panacea that would end political crises and corruption.
            Besides that, Mr. Cunha, Mr. Temer and his colleagues are supported by pro-American forces in Brazilian society, such as already mentioned pro-American senator José Serra, Koch brothers-funded MBL movement etc. Mr. Cunha himself is strongly pro-Israel (he is a member of a very pro-Israel evangelical church) and is very unhappy with current Brazilian foreign policy (see http://www1.folha.uol.com.br/poder/2015/06/1637401-em-jerusalem-cunha-e-recebido-com-honras-no-parlamento-israelense.shtml ). One should keep in mind then president Lula's role in avoiding an US-Iran war (see http://news.bbc.co.uk/2/hi/middle_east/8686728.stm and also http://calhoun.nps.edu/handle/10945/44572 , page 82-3).
            The Brazilian "coup" therefore signals a possible turn in Brazilian foreign policy from one towards multipolarity to one aligned with the US interventionist policy (regarding the Middle East and elsewhere) – the very anti-Russian hawkish policy that the American general public rejects (as seen in the rising popularity of isolationist Donald Trump) and that American dissidents such as conservative Paul Buchanan and Libertarian Ron Paul denounce.
            It is a coup against BRICS and against a multipolar world.